Today I am linking up to Crock-tober on The Larson Lingo blog. It is where you share your favorite crock pot recipe.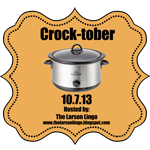 I love my crock pot. I use it year round. It is especially nice on busy nights when everyone is going in different directions. My favorite recipe is Salsa Chicken. My family is a big fan of mexican food, so they love this dish cooked all day in the crock pot. I serve it over a bed of rice. Hope you will try it for your family. This is so good and easy!! We are having it tonight!
SALSA CHICKEN
1 pkg of chicken breast tenders
1 can of cream of mushroom soup
1 cup of salsa ( I use mild)
1 pkg. taco seasoning
1 cup of sour cream
add of top when serving...shredded cheddar jack cheese and black beans
Directions:
Put chicken, soup and salsa in slow cooker.
Sprinkle taco seasoning over everything.
Cook on low for 6 hours.
Remove chicken from slow cooker and shred.
Stir in sour cream at the end and add the shredded chicken back to the mixture.
Serve over rice. Sprinkle cheddar jack cheese and black beans over salsa chicken. Enjoy!