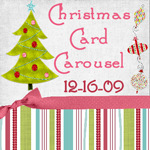 I found this fun blog party and I had to share it with you. My absolute favorite thing about Christmas is Christmas cards. I love to make them and get them. I am linking up to this blog to share our Christmas card from this year along with many others. Its fun to look at and get ideas for next year's card. Everyday I can't wait to go to the mailbox and get cards. I am always so sad when it is no longer Christmas time and my mailbox has nothing fun in it other than my magazines!
I want to share our card and also how I am displaying them this year. Last year I hung all the cards on a garland around a door, but this year I am doing something different. I found a wide, pretty ribbon and tacked it to the top of each of the doors that lead into our den. I am attaching the cards with paper clips. I love looking at them everytime I pass there. I am also going to get one of ours framed to add to our growing framed card collection in our hall. This was started McKenzie's first Christmas.
I usually make our cards but this year just couldn't come up with any ideas, so I went the digital route and found this design on Minted.com. They were great to work with and I was very pleased. Every other year we do a family picture. I found this old tin building over by the depot and enlisted the help of my friend Amanda to take it.

I love to buy cute address labels every year from Doodlebugs Paper. Kasey always has unique designs.
Here is our card...
Be sure to check out all the cards at Christmas Card Carousel.